Words and Images by Christine E. Sweeney.
"You have her hands."
"Your hands are like hers."
"What's THAT supposed to mean?" I asked myself.
My mother always took a gently cruel pleasure in having me try on her diamond ring, "Oh! It only fits your pinkie! My fingers are so slender. You have piano player hands. Strong fingers." I don't know what it means for her to tell me I have her recently-deceased mother's hands. Her mother never played the piano.
But she pounded ground pork and stuffed it into sausage casing. She carved raviolis and gnocchis, like play-doh. But edible. More socially-acceptably edible than play-doh, at least.
She sewed delicate, intricate lace together. And satin. She hated the feel of satin. But to sew it for a wedding dress or a 90s prom dress was her love language. "Eeehhh! Satin gives me the shivers! I hate the way it feels on my hands! But I'll do it for you." Memory is fiction. But I remember her hands as pin cushions, plucking pins out as she buzzed around a dressform. "Come here, I'm going to show you how to crochet." She was always showing me how to do things with needles. I miss her.
She did these delicate things with her ham hands.
"You have her hands."
Her hands were always doing something meant for more nimble, dextrous fingers.
A handful of pinkies.
For workhorse hands, they were soft. Did you know if you rub olive oil on your hands and face every day, you'll never get wrinkles? Ever. It's true. Not even when you're 88.
You can die wrinkleless if you follow this simple skincare routine.
In a pinch, olive oil will twist rings off of swollen fingers. She always wore olive oil. And rings.
She wasn't one of those glamorous women who count love by the jewellry given to her. But her jewels were little kisses from a man who was never a big talker. A love language from the soft, silent type. In her world, you don't buy jewelry for yourself. It's given to you, often by people who don't have the words.
After she died, there was an accounting of her jewels: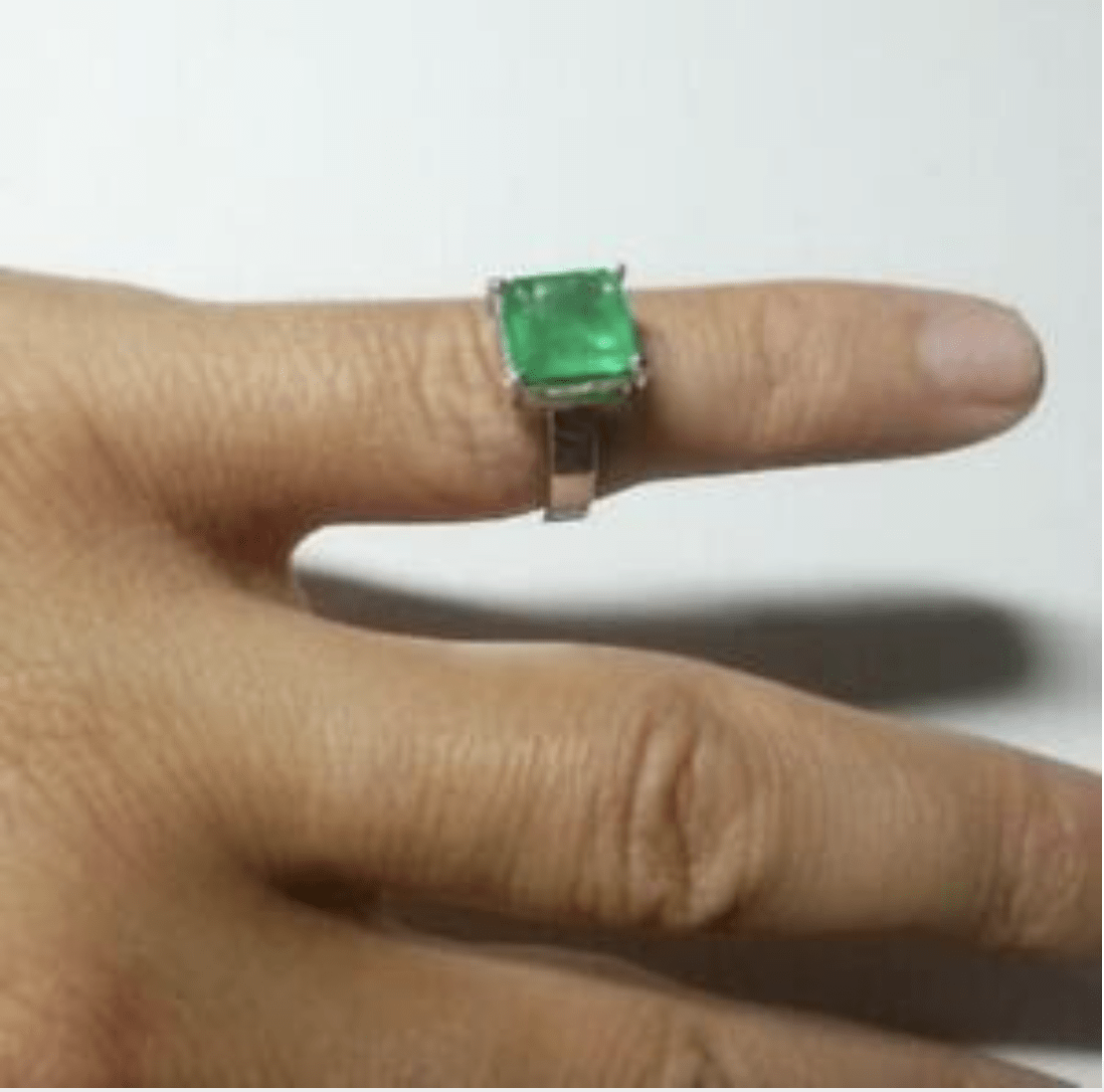 One – Lady's Freshwater Pearl Necklace, 19 inches long, with 14K Yellow Gold Catch. Necklace has round Freshwater Pearls and "Rice Krispie" Freshwater Pearls;
One – Gents 14K White Gold Wedding Band;
One – Gents 14K White Gold Wedding Band;
One – Lady's Solitaire Diamond Ring with 14K White Gold Shank;
the list goes on.
What need is there for two gentleman's wedding bands, when you were only married to one gentleman? This spreadsheet has a story to tell. I have questions.
"Here are her jewels. Pick what you want and we will distribute fairly among the seven grandchildren," my mother offers her mother's modest stones.
It's unseemly to discuss such delicate things via spreadsheet. It's uncouth to discuss how much things cost. Which were the most expensive? I don't want those. It isn't polite.
All I want is the emerald ring. The green gemstones I thought were emeralds, that wrapped around her finger like a tiny, glistening, twinkling slug. Choking her finger. It's only worth $20? How could it be? That green slug was fit for a queen.
I received this Accounting of the Jewels after returning home from another disappointing date. (WARNING: A single 30-something woman recounts a sad date …)
He was nice enough, but without spirit. "How could anyone ever get so excited about anything? What's there to laugh about?" He wonders. He is not the kind of person to feel or express love. He is not the kind of person to kiss someone with jewels (or letters).
So now, I am supposed to decide if I, the only unmarried of the six granddaughters (who has just returned from another disheartening date), want to claim my deceased grandfather's wedding bands? For my future husband? Just in case?
I respond to my mother's email with grace:
"Not to solicit your pity, but might I remind you that I am the only granddaughter without a man (or woman, or non-binary person!) to buy me jewelry. Not to solicit your pity, but I think I win for the saddest, neediest, most deserving claimant of Nanny's jewels. You know, I am a minimalist. I don't need anything. Particularly not jewelry. Jewelry sends a message, "Look at me! Look at me expressing myself! With puka shells or diamonds or hemp or chains!" I have nothing to prove. But really, if I change my mind. If I become sentimental, I'll need those jewels to keep me company. I'll need them to prove my inherited worthiness.
"Give me the jewels. I'll wear them all at once, with a faux furry coat, hunched over a bar, sipping a gimlet. Oh, I'd be a vision with that gimlet and faux emerald ring. I've got her hands. You said so yourself. Now give me that ring. Thank you for coming to my pity party."
---
About The Author
Christine is a writer who also produces comedy nights featuring heady rants and PowerPoint presentations. She holds a Master of Science degree in Media & Communications from the London School of Economics and Political Science where she researched how millennial women use media to identify, confront, and avert workplace sexism. She also holds a Bachelor of Arts degree in Latin American Studies. To understand the absurd times in which we live, she writes about the silly and serious aspects of gender representation in media and the dark side of technology.
Follow on IG: @csweenez